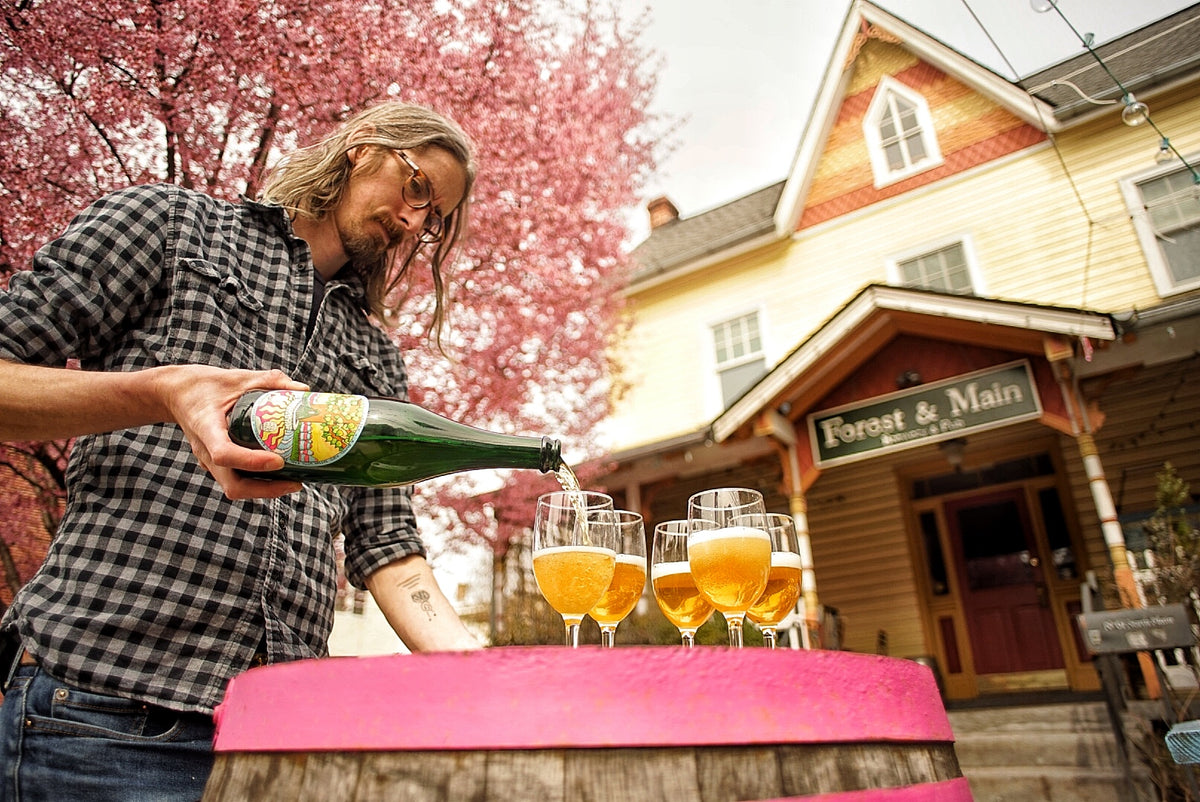 INTERVIEW: DANIEL ENDICOTT, FOREST AND MAIN
Posted on 07.04.2020
For those who haven't had a chance to try your beer or don't know about your set-up, can you explain a bit about the history of Forest & Main as well as the concept behind it?
Gerard Olson, and I brought our love of Saison and British-style ales, respectively, together to open Forest and Main eight years ago this month. The brewery and pub are in a Victorian style house from the 1880s in Ambler, Pa. We believe that low alcohol British-style beers and low alcohol saisons have a lot in common in terms of the ethos behind their production and the simultaneously simple and complex character of the beers themselves. The pub has a very small bar that features three hand pumps and several beers on draft. We are most known for our saisons, especially our barrel aged saisons that we offer in bottles. Two years ago we opened a bigger space directly next door to the pub. We call this simply the NewSpace. There we have a much bigger bar and customer space, a stage for live music, 12 beers on draft and a wide selection of caned beer. 
We're speaking during what could possibly be the biggest crises to face the beer industry since prohibition. How have you guys been coping?
The pandemic has brought to a halt the beer world that we are used to. We had several festivals in the states and abroad cancelled or postponed, and the pub itself is empty with no guess as to when it will reopen. The first week or two were terrifying, the uncertainty of everything was heavy. Yet what has come out of it has been surprisingly uplifting. 
The other day you told us that the silver lining to the crisis is that beer deliveries have taken off. Can you explain what effect the virus has had on this side of the business?

The virus and the lockdown have forced us to shift our model to entirely off-site sales by delivery and the outpouring of support has been heart-warming. Instead of seeing our regulars over the bar or in the taproom we now see them behind their doors while we drop off beer. The smiles, thumbs up, and excitement for our beer arriving on their door step has been so rewarding. While we have no idea what will happen next week or the week or month after that, we are embracing this new model and enjoying the new connection we have with our customers. Oddly this has simplified our production in terms of flipping tanks faster (we now can off the whole batch instead of trying to guess how quickly it would be consumed onsite). We are now canning at least twice as much as we used to and have plans to increase that. 
A lot of people in the industry are saying that after this shake-up things will never be the same again. Do you agree? If so, in what ways will the industry have to adapt?
It certainly won't be the same for a long time, both as a consumer and a producer. When the lockdown is over we will not instantly return to the world we knew before. People will still be sick and people will still be wary of crowds. I think social distancing will be a normal part of life for a while. I think direct to consumer delivery will be a huge part of the industry going forward. On a larger scale, I don't know that the festivals as we knew them will happen anytime soon. As a result, I think the constant travel that many breweries became accustomed to will not exist. All of which is to say that I think the focus will be more on local than its ever beer. That may be a good thing to come out of this. 

Moving-on from the virus…while most breweries right now are focusing on NEIPAs you're one of relatively few pushing British-style cask beer at your pub. What is it about this style you love and what's the reaction been from locals?

Let's not pretend that we don't sell vastly more IPA than bitter or saison. We are known for saisons and bitters but we survive as a business thanks to IPA sales. I love the understated nature of bitters. They can be a beer that you put back in a few gulps while playing darts or talking with friends and they can also be a beer that you sit with and slowly dissect all the parts that make it. A great bitter brings with it more than just beer, it has culture, history, and character with it. 
As a brewery run by a Scot and a Yorkshireman, we have to ask: do you serve your bitter using sparklers?
Most certainly. I'm a sparkler fan. Unless it's a newly tapped beer that needs to settle down a bit we will have the sparklers on. 
You were recently in the UK for the Cloudwater Friends and Family festival. How did it go and what were your highlights?

It was a wonderful trip. We got to cover a little ground, London, Newcastle, and Manchester. Paul and his team work tirelessly to make sure the brewers enjoy the festival as much as the paying attendees. It's rare, as a brewer, to leave a festival and wish you had another day or another session to pour at but we felt that way leaving FFB. We made many new friends while at the festival. Hopefully we can see them again soon. A highlight was definitely going for a few pints with a few other breweries after the final session of the festival. We wound up in a labyrinth-like pub full of just about every walk of life in Manchester. Packed into a corner, we made friends with a few older gentlemen enjoying some cask ale while a rowdy young group drank lager, played foosball, and sang songs on the other side of us. It was a wonderful few pints with friends new and old. We had a blast in Newcastle with the guys at Wylam. We brewed a saison with them and dumped a bunch of our bottles into the fermenter. Our yeast is now happily working away in Newcastle, that's a trip. It's always helpful for us to get away from our brewery and see things from a distance. We come back inspired and energized to make the beer and the experience better. This trip certainly did that. I had so much good cask ale on this trip, I returned determined to make our cask ales even better. 


And your favourite pub/beer experience whilst you were over here?

The first night in London, tired and unsure what time it was, we set out for the beer mile and the Kernel in particular. We were out of luck as all of the breweries were closed on Tuesday. As the skies opened up and we got soaked a brewery employee suggested The Royal Oak, not far from us. We made our way to it, found a table, enjoyed several pints of Harvey's Best and a warming pie while a few locals started playing fiddles and guitars in the corner. It was a classic British pub experience, and most importantly, the bitter was spot on. Tired and wet from the rain, our spirits were lifted by a night at the Royal Oak.
You're an artist as well as a brewer. Is this something you've always done and in what ways does your artwork crossover with your brewing?
I've always made art. Before opening Forest and Main I graduated from college with a BFA (a degree in fine art) and spent a few years trying to make it as an artist. The art and the brewing all come from the same place. They are both genuine expressions of what we are into, what excites and moves us and there is a constant evolution to both of them. I think that the art is like our beer in that they are both completely unique. Our saisons are fermented with a yeast that is cultured from our property, no one else uses this yeast, it IS Forest & Main. Similarly, the art on our labels and our walls is one hundred percent us, for better or worse.
You publish some creative flavour descriptors on your Instagram feed. Tell me one of your faves? Mine is: "Notes of creamy vanilla lavender, zebra gum, magnolia blossoms, and eating pasta and fruit roll ups at the same time."
I'm a big fan of our "fucked up" descriptors. Lots of beers say they taste like oranges, or mango, but ours often taste like fucked up mangoes. Fucked up doesn't have to be bad. 


The brewery has a strong focus on mixed-ferm beers. Can you describe what set-up you have in terms of equipment and explain a bit about your process?

All of our saisons are fermented with a yeast that we culture off of flowers on our property every spring. We culture it up anew every year, and thus the yeast is a representation of both our place and our time. Many of our saisons will be fermented in stainless with our foraged yeast and then sent to barrels to age before bottling. The barrels are full of years of our history and bottle dregs from beers we've thought highly of. The barrel aged saisons almost always end up in bottles, or a very rare draft appearance. In the bottle they continue to develop, often with Brett showing up.
One of your slogans is 'believe in saison'. Believe me, I'm a believer. Buy why should the non-believers believe?
Saison is a very nebulous beer style. So nebulous that I consider it more of a mindset. The way we brew saisons often takes a good bit of belief in the beer, or the yeast. It's a magical thing every year when we culture up yeast from our property and it makes "saison". I think that our belief in it, the yeast, the property, the bigger picture, is just as much an ingredient as the malt or the hops. On a more basic level, saison is a style of beer that doesn't get lines out the door, "Believe in Saison" is a playful way for us to drum up more conversation about it and to get people excited in it. Like everything at Forest and Main, like a good bitter, and like a nice saison, it's playful on the surface but there is a much greater depth to it if you want to dive in and explore.
The future is?

The future is always here. We are good at what we are good at and we focus on that. Tomorrow will be a reaction to today, slowly we change, but not really. Sorry, I don't have much of an answer for that one. I'd be a much better business owner if I spent time trying to figure out the future but then I'd become something I don't believe in.