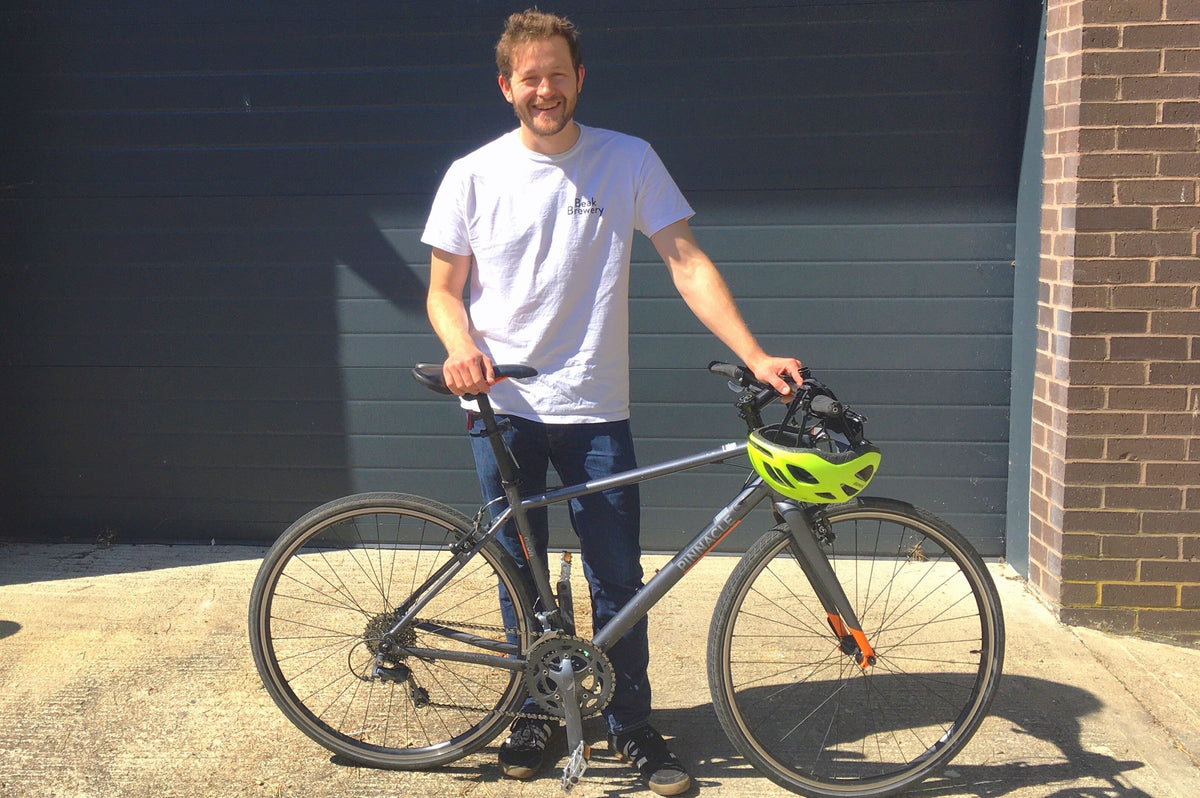 WELCOME TO THE FAMILY: ROBIN HEAD-FOURMAN
Posted on 01.05.2020
The Beak is being joined by Robin Head-Fourman, who as head brewer is bringing some big plans to the table, from rustic lagers and locally-foraged yeasts to the UK's first concrete beer fermenters.
Let's cut to the most important question first: sparkler or no sparkler?
So as not to make any enemies, I'll be diplomatic. For me, it depends on the beer and where I am. Pint of bitter in Yorkshire? Sparkler. Pint of Best in Sussex? No sparkler. 
How and why did you get into brewing; where did you train and what have you been doing until now?
Like a lot of people, I started out home-brewing as a means to get cheap beer when I was a teenager, but quickly became interested in actually making good beer. During my undergrad, I did a few shifts at a local brewery, and I was hooked. I decided to enrol in the MSc in Brewing and Distilling at Heriot-Watt. While completing my Masters I worked at a well-known brewpub in Edinburgh where I was lucky enough to meet Mark Tranter, who took me on for some work experience at Burning Sky. One thing led to another and I found myself brewing at one of my favourite breweries. I've been at Burning Sky for the last four years, and it's been a privilege. I'm looking forward to taking all I've learned to this new project. 
Unlike a lot of breweries, The Beak has never been defined by a core range and has dabbled in all kinds of styles. Is this an approach the brewery is going to stick to in its new home?
Yes and no. We'll still be experimenting, brewing with the seasons, and brewing lots of collaborations, but expect to see a semi-regular rotation of favourites. 
Are there any new styles of beer you're excited about exploring?
There's been a resurgence in properly brewed lagers recently, and after a trip to Bamburg a couple of years ago my eyes were really opened to the breadth of the style. As a brewer, the technical challenge of brewing lager is second to none. I've never had the chance to brew one commercially so I'm looking forward to trying my hand. 
You've been working closely with the Derbyshire fabricator, Malrex, to design a kit around the kind of beers you like. What are these modifications and why have you made them?
I've made a few key modifications; firstly, we've got an oversized mash tun that allows us to make any strong beers that we want without resorting to adjuncts; secondly, we've designed a custom whirlpool to allow high hopping rates in our IPAs, and finally we've a simple bit of kit to allow us to purge hops with CO2 before adding to the fermentation vessel. These small modifications are made on top of a great design by Malrex, and I'm really excited to see the first brew come off the brewhouse. 
Plans are also afoot for a really unique mixed fermentation project. Can you share some of the details?
Lots of breweries have been ageing beer in oak for a long time now. For our mixed fermentation beers, I chose a material that's popular in wineries - concrete. I wanted our mixed fermentation beers to reflect their surroundings - being located on an industrial estate under some imposing chalk cliffs, concrete seemed like the right choice. The concrete is breathable, allowing the wild yeast to continue to develop flavour slowly, and will also impart a nice minerality to the beer. I'm working with a yeast-lab to capture and isolate a few strains of wild yeast from locally foraged flowers, fruits and honey. These will form the basis of our house yeast culture and provide a unique flavour to the beer. 
The Beak is launching in the historic brewing town of Lewes, in the heart of the South Downs National Park. In what way is the local area going to inform the kind of beers you make?
Nestled where we are, I'm not short of inspiration. Of course, Lewes is home to Harvey's, and I've always been inspired by their commitment to tradition and local producers. The Downs provide a stunning backdrop with plenty of ingredients to forage and experiment with - from elderflower in summer to sloes in winter. Not to mention Kent being a stone's throw away, with its hop growing heritage. If I can get even some of this history and beauty into a pint I'll be a happy man.
Post-lockdown, the brewery will double as a taproom and street food venue. In what ways do you hope it will become a part of the community.
We're blessed with a great supportive community here in Lewes. The taproom will provide a space for people to come together over food and beer, and to connect with producers. I think we'll all need a bit of connection after lockdown, so my main hope is we can provide a space for that. 
You're a damn good cook. Is there any crossover between the kind of food you like to make and your approach to brewing?
If I'm honest, my approach to cooking and brewing are quite different. When cooking I rarely work to a recipe, preferring to use what I have at hand and changing things as I go. When brewing, spontaneity rarely results in revelation. Instead I am quite meticulous, planning and refining batch to batch. The thing I always aim for is they must both be delicious! 
The brewery is laying roots during one of the most turbulent times in brewing history. How are you going to adapt to the situation?
Food and drink have always been an escape and a joy for me. Even after the most stressful days a good meal and a pint can sort you out. I think that's as true now as it ever was, and I hope that people are still excited to try new beers despite what's going on, even if it's from home rather than the pub or the taproom. So, I'll be making sure our beers are as exciting as ever, and of course we'll be packing it all into cans to be enjoyed safely at home.
What other new breweries are you excited about?
Some friends of mine have recently started a new brewery up in Edinburgh, New Barns Brewery. They are lovely people, and cracking brewers to boot. Give them a look! 
You're the only Scotsman in your family. How on earth did that happen?
My Dad was born in England, my Mum in Australia, they met in Australia, and had my two siblings in England. Luckily, they moved north of the border before I was born. Phew!